From cactus farms of Zacatecas, Mexico
INTRODUCING CACTUSSKIN
Our close Mexican partner,Desserto®produces a highly sustainable plant based and vegan material made from cactus. Over the last 4 years, Desserto has been distinguished by its great softness at touch while offering a great performance for a wide varety of applications and complying with the most rigorous quiality and environmental standards.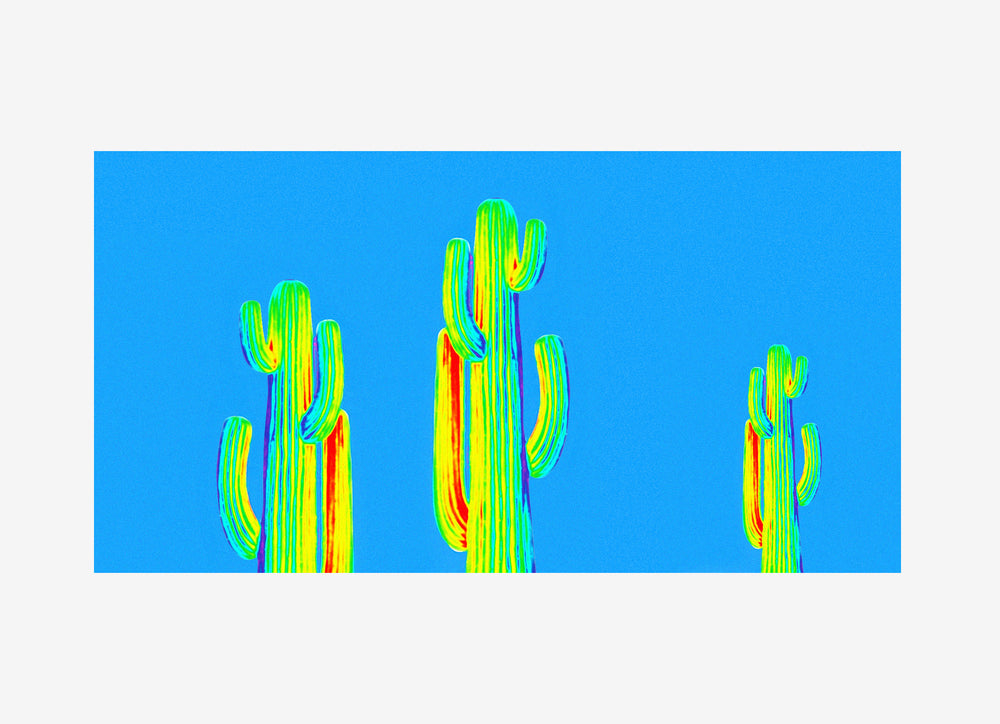 From Cactus farms to a wearable material
CACTUSSKIN PRODUCTION STAGES
The CactusSkin production starts at a certified organic cactus farm in the state of Zacatecas in Mexico. To make the cactus leather, only the mature leaves are harvested, keeping the core of the cacti intact, meaning in 6-8 months the leaves will have grown back and the cacti can be re-harvested. 
The cacti are organically grown and do so in their natural habitat, meaning no irrigation system or chemicals are used to grow cacti. 
After cutting the mature leafs, they dry under the sun for 3 days. Then, the organic raw material is processed and associated with stabilizers to create the vegan-leather Desserto®.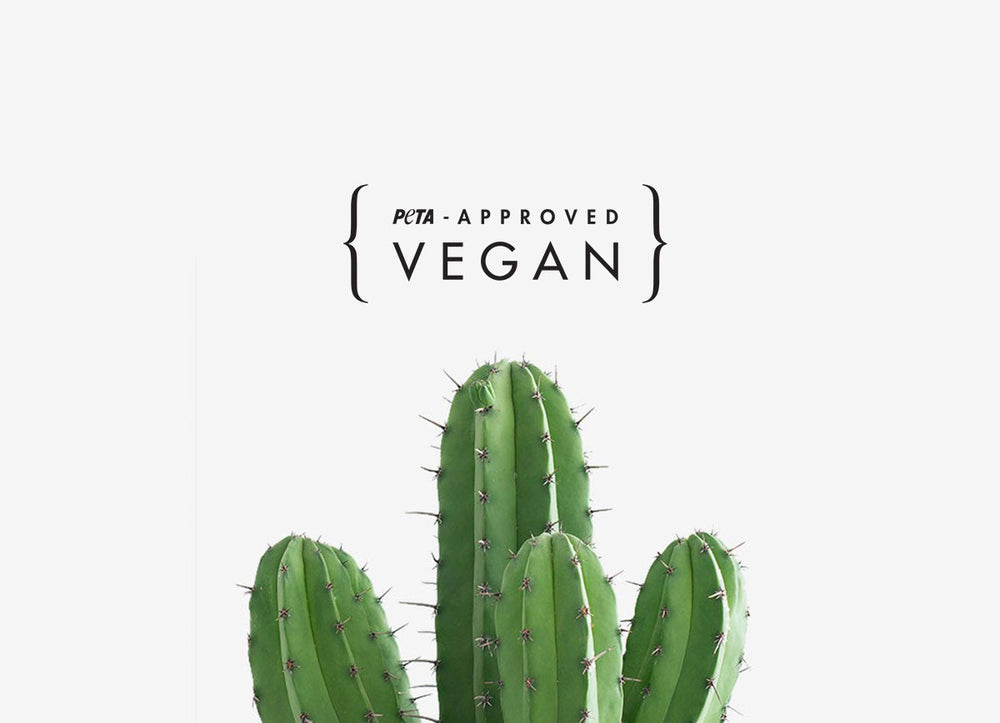 Animal-free and Resistant
VEGAN AND DURABLE
Desserto® is an animal-free material and is PETA-Approved Vegan. Download here Desserto's vegan certification. 
Thanks to its strong molecular bonding, the CactusSkin offers high resistance to abrasion, rubbing, tearing, tensile and a great durability. CactusKin is water resistant, breathable and easy to clean.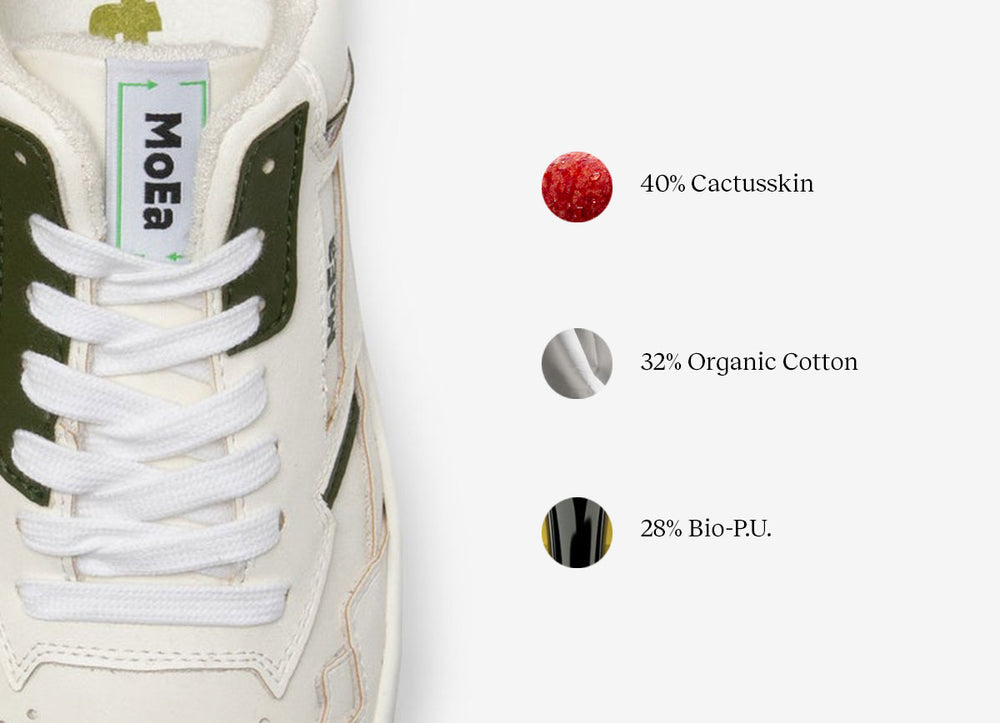 40% of cactus in each pair
CACTUSSKIN COMPONENTS
With over 40% of the sneaker made up from cactus skin, the robust material looks and feels like leather and is made to last so that you can always put your best eco foot forward. 
Composition: 40% cactus skin, 32% organic cotton, 28% bioPU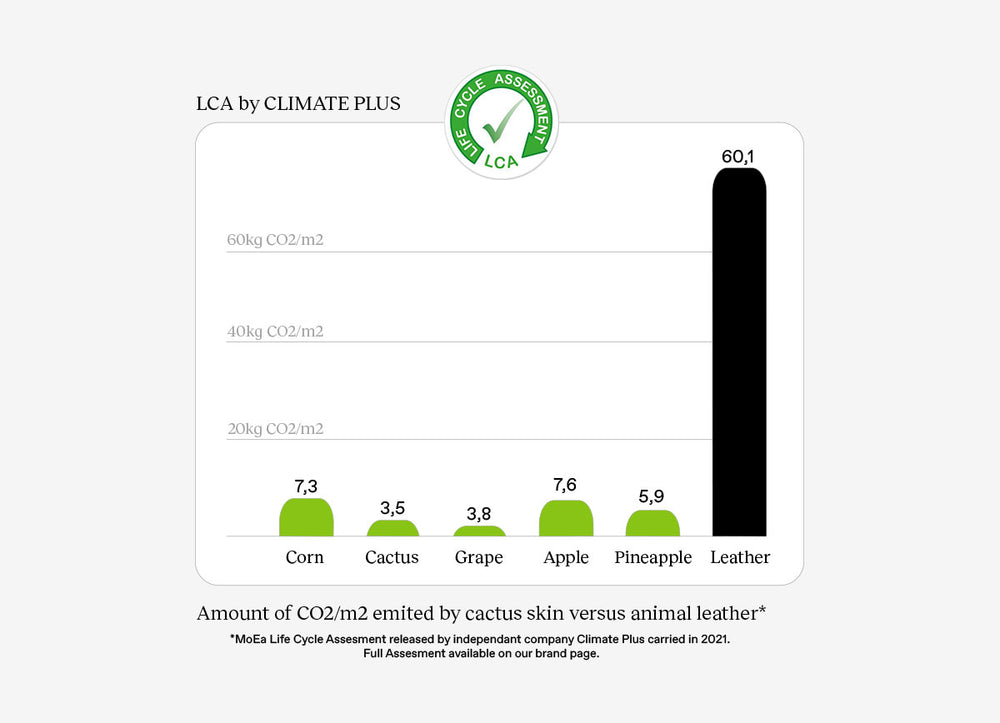 Water-conservative, energy-efficient and low carbon
CARBON IMPACT
Cacti use very little water to grow and be maintained. In comparison, the average pair of leather sneakers will use a whopping 2,257 gallons of water during the production process. 
Our LCA study made by certified agency Sami (Climate Plus) indicates our CactusSkin emits 4.0kgC02/m2 versus 60.1kgC02/m2 for animal leather on average.
According to Carbon Fact study, our Cactus sneakers emit on average 69% less carbon than an average pair of sneakers and have a carbon footprint of 5kg CO2 per pair.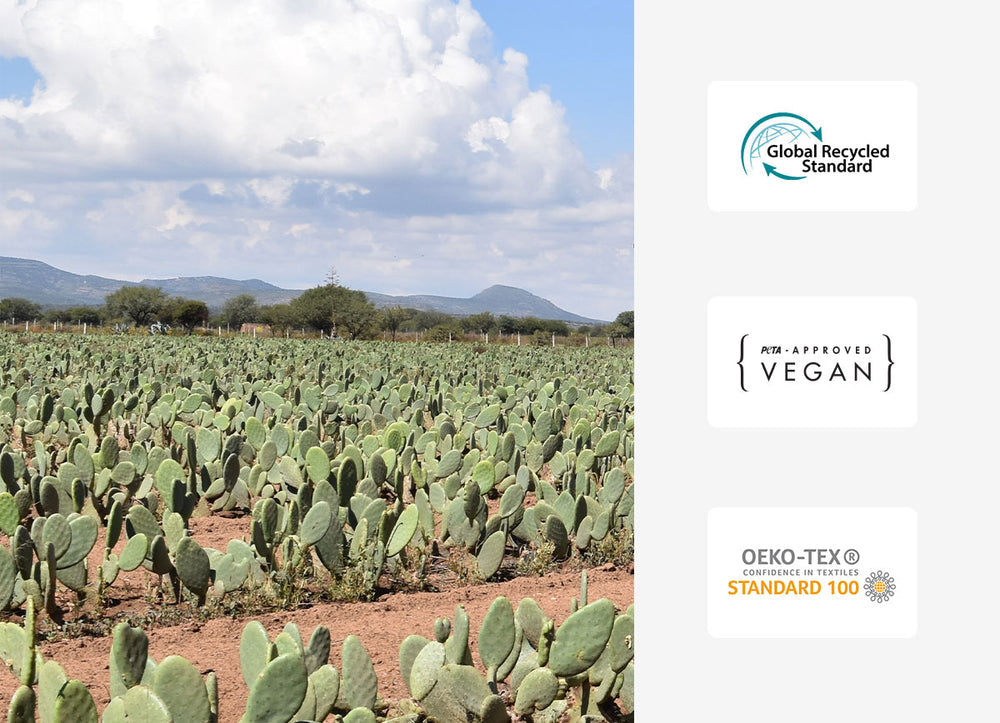 Certifications and Labels
CACTUSSKIN CERTIFICATIONS
MoEa is reponsible for the materials used to produce your sneakers. Thus we are only working with certified and labelled materials.
Desserto® is a PETA Approved Vegan company and CactusKin is certified OEKO-TEX Standard10 and Global Recycled Standards. 
Download here the certifications.
Sneakers made from CactusSkin
CACTUS SNEAKERS